You are posting a comment about...
Offended Muslim Syndrome & Self-Help Support Groups
From The People's Cube:
| | |
| --- | --- |
| | Following the misery inflicted on Islam by a toy bear that ended up with calls for the execution of an English woman, more Muslims are stepping forward with stories of long-suppressed emotional trauma imposed on them by so-called reality. This has led to the creation of support groups and social networks that help followers of the Prophet Mohammed cope with the agony of learning about life outside of their immediate environment, offering assistance with technical resources, practical guidance, and strategies for early intervention and punishment of those who offend Islam. |
~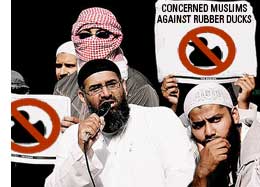 "I have always been offended by rubber ducks," says Mahmud Said of Portland, Oregon. "For a long time I felt stigmatized and inadequate, until one day I decided to write about it on an Internet forum. I received hundreds of heart-felt emails - from Morocco to Indonesia. It turns out that thousands of Muslim men between the ages of 18 and 35 have had traumatic experiences with rubber ducks.

"We started a support group that has grown to 10,000 members. Not only do we share horrifying rubber duck stories, we also try to increase public awareness by sabotaging the world supply of rubber ducks, setting fire to factories, abducting rubber duck distributors, and intimidating retailers. These are building blocks for our healthy future. With Allah as my witness, our public awareness campaign will soon result in a completely rubber-duck-free world."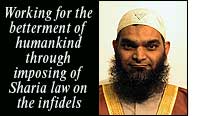 Abdullah Sharif had just turned 35 when the Mohammed cartoon controversy suddenly broke out. It left him so emotionally scarred that he developed an aversion to representative art in all its forms. He often found himself shrieking while passing comics in a bookstore window, or seeing the funnies in the local newspaper. But while Abdullah had formerly been considered just another oddball, thanks to social networking, he is now a successful leader of an international charitable organization working for the betterment of humankind through imposing of Sharia law on the infidels.
His group covers a wide range of activities, from occasional riots, bombings, and beating of newspaper editors to writing threatening letters to the Cartoon Network. "One true believer may be a nutcase, but together we are the fastest growing religion on Earth, making the important cultural shift to a more Islam-dominated society that benefits both the true believers and the lowly kufir," boasts Abdullah. He recently moved to a new home in Malibu and is touring the world on a private Lear Jet.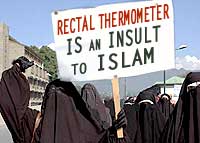 Studies conducted by mental health professionals have shown that Muslim men and women are often offended by the most unexpected items, including baby rattles, hummingbirds, home appliances, or geographical maps with polar ice caps. On the top ten list of the most offensive things are rectal thermometers and the word "allometric," which many consider an underhanded insult to Allah.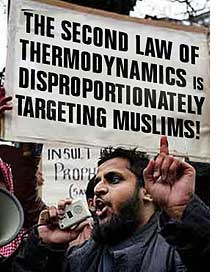 Every such grievance is being thoroughly documented and acted upon by support groups and mental health providers, such as CAIR, that help victims to overcome their stress and anxiety by filing costly lawsuits against private institutions and government agencies.
The typical case involved a visitor from Egypt to Brooklyn, NY, who was offended by the sight of a cumulus cloud over Atlantic Avenue in the shape of the Arabic letter "A." By organizing protests and putting pressure on mass media, a network of Muslim groups and charities succeeded in forcing a Brooklyn judge to award the offended man $150,000 in damages, to be paid by the National Meteorological Agency. The Agency is the government body the Muslim groups deemed most responsible for regulating the proper distribution of water molecules over the New York metropolitan area.
more here