You are posting a comment about...
Introducing Genitally Mutilated Burqa Barbie
Red Square writes at People's Cube:
One of the world's most famous children's toys, Barbie, has been given a makeover - wearing a burqa that fully covers an anatomically correct body of a young genitally mutilated Muslim woman with an amputated clitoris and the labia majora stitched together with thorns and ligament of a hyena.

Wearing the traditional Islamic dress, the circumcised doll is part of a "Save The Children" charity auction in the United Kingdom.

The company director of Laird Assessors from The Wirral, Cheshire, said: "Bring it on, Genitally Mutilated Burqa Barbie! I think this is a great idea. This is really important for girls, wherever they are from they should have the opportunity to play with a Barbie that they feel represents them."

"I know Barbie used to be considered a bad image for girls, but in fact the message with Barbie for women is you can be whatever you want to be. I have a Crack Whore Barbie, Crack Baby Barbie, Transvestite Barby, Leprosy Barbie in a Wheelchair, an ACORN Barbie, and Pimp Ken that comes with the bunch. I even have an Islamic Martyr "Death to Infidels" Barbie with an exquisite suicide bomb belt laced with cute little bolts and ball bearings, from the Italian designer Eliana Lorena, which has only been out for, like, six weeks."

The mum-of-two's own Barbie collection is set to be displayed at London's Victoria and Albert Museum in 2012.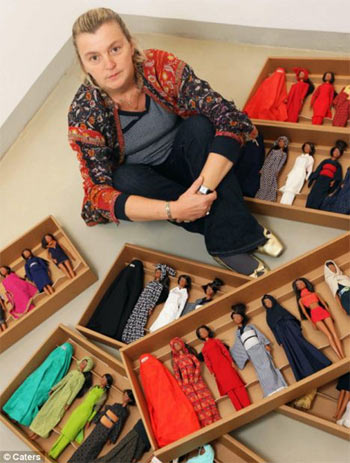 Rosie Shannon, from Save the Children, said "We are delighted Sotheby's and the designer chose to auction the Genitally Mutilated Burqa Barbie dolls for our charity. The money will go towards the Rewrite the Future campaign which helps millions of children around the world effected by rational Western values and suffering from their parents' outmoded moral standards."