You are posting a comment about...
I wish I was there.
Racing began today in the 2006 Isle of Man TT and I wish I was there. My husband and I have been separately, (before we met, and it was one of the reasons he asked me out, apparently) but never together, and with other family responsibilities now we no longer even have a bike.
Weather conditions are said to be perfect (unlike the year I went which was the worst rain since 1952 and the final race, the Senior TT was postponed twice and a shortened version had to be run on the very last day possible) and Alice Cooper played the Villa Marina in Douglas on Friday. Worth going for that alone.
The main reason the event is no longer widely reported in the MSM, is the perception that it is dangerous, not to mention sexist, (which it isn't) environmentally unsound and fun (enormous) and therefore not to be encouraged. Hopefully there will be no serious accidents this year. My hero Joey Dunlop retired after a successful career racing at the TT, only to die doing a fun event for charity.
So in my mind I am standing again at Ballig Bridge, with my red hat and gloves, cheering like mad.
Motor biking, we go motorcycling,
Tearing up the Queen's highway,
Looking like a streak of lightening.
Or as George Formby sung in 1935 in the film No Limit
See me coming down the street with the winning post on the pillion seat.
Oh! Come along and see me riding in the T.T. race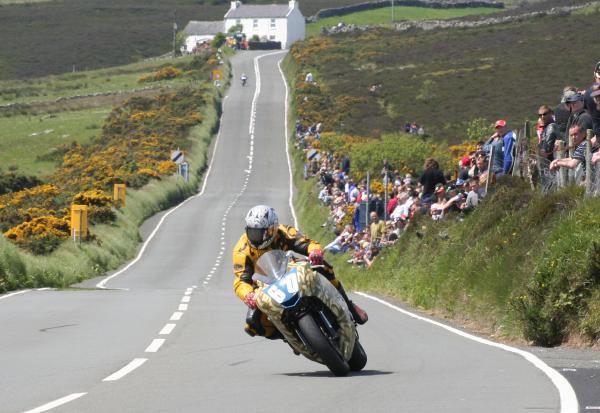 TT 2005 Paul Dobbs at Creg ny Baa on a Triumph 600.