Search Posts
Subscribe
Recent Posts
Categories
Thursday, 31 January 2008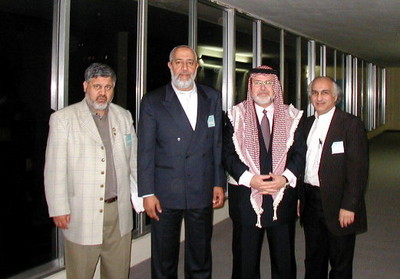 IPT (hat tip: Jihad Watch):
Former IAP President Yasser Bushnaq is shown here at the "Beirut Meeting" in January 2001. The State Department said the meeting included "members of several terrorist organizations" including Hizballah and Hamas. To Bushnaq's right in this photograph is Ahmed Yousef, now a Hamas spokesman in Gaza, and Abdurrahman Alamoudi, former head of the American Muslim Council serving a 23-year prison sentence after pleading guilty to illegal dealings with Libya and aiding a plot to assassinate the Crown Prince of Saudi Arabia.

Yaser Bushnaq, a former president of the Islamic Association for Palestine has been indicted in Virginia for naturalization fraud.
In applying to become a U.S. citizen in 2000, Bushnaq is accused of failing to disclose his affiliations with a series of organizations that the indictment links to the Muslim Brotherhood and Hamas. The indictment clearly defines the IAP as "an overt arm of the covert organization known as the Muslim Brotherhood."
In addition, it alleges that when Bushnaq applied to become a citizen he failed to disclose:
He was the IAP's president from 1989-1991.
That he worked under the pseudonym Yaser Saleh.
He was a board of trustees member for the Al Aqsa Education Fund, "an organization that sought to raise funds for Hamas."
He was an authorized signatory for the Marzook Legal Fund, established in 1996 to support Hamas leader Mousa Abu Marzook after his arrest by U.S. authorities.
The indictment claims he also failed to disclose a 1996 trip to Iran, which had been subject to U.S. sanctions as a state sponsor of terrorism the year before. And, the indictment alleges, Bushnaq did not tell immigration officials he spent most of 1998 living and working in Saudi Arabia. That extended absence from the United States "would have disqualified the defendant from obtaining naturalization because he no longer would have been a valid legal permanent resident."
A grand jury in the Eastern District of Virginia indicted Bushnaq Sept. 12 but it was not unsealed until Tuesday. Bushnaq remains at large and his whereabouts may be unknown. In a motion dated January 10, Assistant U.S. Attorney Gordon Kromberg wrote that unsealing the indictment would not jeopardize any ongoing investigation.
Bushnaq is an unindicted co-conspirator in the Hamas-support trial of the Holy Land Foundation for Relief and Development (HLF), which, along with the IAP, is listed as part of the Muslim Brotherhood's Palestine Committee operating in America. The committee was created to advance the Hamas cause in the U.S. Its members gathered in Philadelphia in the fall of 1993 to discuss ways to "derail" the Oslo Peace Accords, which the group feared would marginalize the Islamist Hamas.
Intercepted telephone calls show Bushnaq was invited to the Philadelphia meeting but did not attend. The HLF case is expected to be retried later this year after jurors deadlocked on most of the counts involved. Evidence presented at the trial showed the IAP and HLF had a close working relationship.
Bushnaq's Hamas support has been known for more than a decade. A 1996 Dallas Morning News story described the 1989 IAP conference this way:
But audience members at the December 1989 conference of the Islamic Association for Palestine shouted "Allahu Akbar" ("God is great") when the masked Hamas spokesman talked about an ocean of blood.
In a videotape of the conference, Yaser Bushnaq, a Dallas resident who was then president of the Islamic Association for Palestine, welcomed participants. A Hamas banner draped a table, from which one speaker after another praised Hamas. The conference was named after Abdullah Azzam, considered a Hamas martyr...
Posted on 01/31/2008 9:50 AM by Rebecca Bynum
Comments
31 Jan 2008
Hugh Fitzgerald
And suppose he had obtained that citizenship in1980, before certain laws were in place to deal with such matters. Would he then be an "American" or would he be, would he have always have been, someone who, while he had obtained American "citizenship" remained resolutely hostile to the political and legal institutions of this country, and hostile as well to the American Constitution, which in so many ways flatly contradicts both the letter (the Shari'a) and the spirit of Islam.
Can those who subscribe to, whose lives are suffused by, Islam ever be loyal citizens to Infidel nation-states, such as the United States, or Great Britain? I need to have explained how this is possible. If you claim to believe in the Qur'an, immutable and uncreated, as the literal Word of God, if you furthermore claim that the Hadith and the Sira (the Biography of Muhammad) correctly represent that central figure in Islam, that Exemplary Figure for All Time (uswa hasana, al-insan al-kamil), Muhammad, and that both Hadith and Sira serve as glosses on, that Word of God in the Qur'an, then how is it possible to offer one's allegiance to the Constitution of the United States, or to the "unwritten Constitution" of Great Britain, or to any state created of, by, and essentially for, Infidels? Not possible.
This circle cannot be squared. And that may explain why everyone stays far away from this subject. Too hot to handle. Too impossible to deal wtih. Too troubling. One of those Disagreeables that our Podsnaps put out of their minds. "Nothing else to exist, anywhere!"