Search Posts
Subscribe
Recent Posts
Categories
Tuesday, 7 February 2006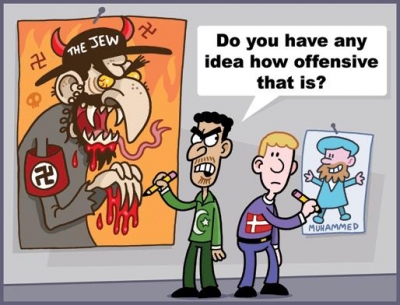 Daniel Pipes writes:
The deeper issue here, however, is not Muslim hypocrisy but Islamic supremacism. The Danish editor who published the cartoons, Flemming Rose, explained that if Muslims insist "that I, as a non-Muslim, should submit to their taboos ... they're asking for my submission."
Precisely. Robert Spencer rightly called on the free world to stand "resolutely with Denmark." The informative Brussels Journal asserts, "We are all Danes now." Some governments get it:
Norway: "We will not apologize because in a country like Norway, which guarantees freedom of expression, we cannot apologize for what the newspapers print," Prime Minister Jens Stoltenberg commented.

Germany: "Why should the German government apologize [for German papers publishing the cartoons]? This is an expression of press freedom," Interior Minister Wolfgang Schauble said.

France: "Political cartoons are by nature excessive. And I prefer an excess of caricature to an excess of censorship," Interior Minister Nicolas Sarkozy commented.
Other governments wrongly apologized:
Strangely, as "Old Europe" finds its backbone, the Anglosphere quivers. So awful was the American government reaction, it won the endorsement of the country's leading Islamist organization, the Council on American-Islamic Relations. This should come as no great surprise, however, for Washington has a history of treating Islam preferentially. On two earlier occasions it also faltered in cases of insults concerning Muhammad...
Posted on 02/07/2006 10:07 AM by Rebecca Bynum
Comments
No comments yet.