You are sending a link to...
Boadicea may have had her chips on site of McDonald's
Archaeologists believe they may have found the final battle site for the warrior queen Boadicea - on the site of a McDonald's restaurant.

Having spent her life in fierce resistance to one empire - the Romans - her last stand is thought to have been overshadowed by another one, this time corporate.

Little is known about Boadicea's last fight, or the way in which she died, but it is widely believed to have taken place in the West Midlands. The site unearthed by experts, in Kings Norton, Birmingham, lies close to the line of a Roman road, and fits many of the few facts available.

According to the Roman historian Tacitus, prior to battle Paulinus deliberately protected his legions by choosing a hilly area virtually surrounded by trees with a single opening.

Experts from Birmingham city council believe the Parsons Hill site matches this description with its landscape and mature woodland, and artefacts found in the dig indicate that Roman soldiers may have been there. The area of land next to the McDonald's is also near the Metchley Roman fort.

Cllr Peter Douglas Osborn, a conservationist, said: "I find it very exciting to think we may unearth something so intriguing right here in Birmingham. It would be bizarre if it is discovered Boadicea's last stand was next door to a McDonald's, but the site does fit the only descriptions we know of.

A spokesman for McDonald's said: "Obviously if a site next to one of our restaurants is found to be where Boudica fought her last battle then we would be quite excited. However, we'll have to wait and see what the archaeologists find."

The warrior queen was described as being "very tall, the glance of her eye most fierce; her voice harsh. A great mass of the reddest hair fell down to her hips. Her appearance was terrifying".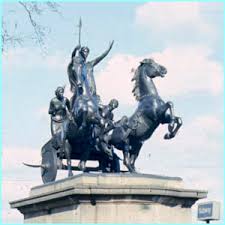 She has also inspired some great beer, although I don't personally believe that she is buried under platform 9 of Kings Cross station, the trains are not that infrequent, or that her chariot had knives on the wheels. Despite my supermarket trolley pushing style.