You are sending a link to...
No Taxpayer-Funded Jihad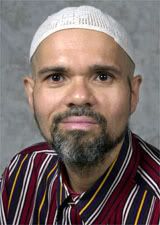 Mike Adams writes: "Yesterday afternoon, I logged on to the "Global War" blog (global-war.bloghi.com) of Associate Professor Julio Pino – a Muslim convert who teaches at Kent State University. The heading for the site used to read "The Worldwide Web of Jihad: Daily News from the Most Dangerous Muslim in America." Now it reads "Are You Prepared for Jihad?" IN THE NAME OF OBL. 2007: THE YEAR OF ISLAMIC VICTORY!"
Hardly able to believe what I was reading, I called Pino at his office in Ohio around 4 p.m. According to his secretary, he had not been at work that day (he only has office hours two days of the week). He was drawing a paycheck from the people of the State of Ohio while trying to launch a Jihad against people like me. In fact, just five minutes before I called he posted an entry under the title "Crusaders Can't Take Anymore in Afghanistan!""
Tenure is an idea whose time has come, and gone. But it should have particularly gone for those who, in 1942, had swastika flags draped on their office walls, and who might have spent spring vacation visiting Fritz Kuhn in jail, There is a limit. This Pino should be fired, and it should be done not by those who will simply be crude know-nothings, but clever know-everythings, so that the ACLU does not get to have its promised field-day. The state of Ohio does not have to pay the salary of someone who identifies with those who are against, not merely the State of Ohio, but against all the legal and political institutions, and social arrangements, of this country.
Contrary to what fifth-graders think, the phrase "This is a free country" is not the end of political discussion. How this is a free country, why this is a free country, the reasonable and even admirable and certainly necessary limits on the individual freedoms that this free country guarantees, all this has to be understood.
And Pino has to conduct his Jihad elsewhere. I suggest Gaza. Or possibly Fallujah. Or perhaps --why not -- answer one of those ads, for one of those dismal "universities" in Kuwait or the U.A.E. or even in Saudi Arabia, where one can teach English as a second language, or do whatever it is that expatriates do, as no doubt well-paid wage slaves for the rich Arabs. "Money can buy everything -- except civilization" is how one Franco-Armenian summed up for me his years in Saudi Arabia.
Pino will not, alas, be able to take part in any mission civilisatrice. After all, he voluntarily embraced the mental straitjacket of Islam, has voluntarily adopted the habit of mental submission. But the Saudis will find a use for him, no doubt. Perhaps just as an example: the Infidel "Revert" who was attracted by the harmony, the goodness, the essential rightness of Islam. Put him on display, and let him tour Saudi Arabia. But get him off the Ohio State payroll. There is a limit to what taxpayers should be expected to endure.
And if Kent State turns out to be a private university, then its Trustees have even less of a First Amendment problem. They can regulate speech at a private university however they choose. The AAUP (the American Association of University Professors) has no legal -- and by now little moral authority -- to argue otherwise.
Isn't the idiotic war to bring "freedom" to "ordinary moms and dads" in the Middle East enough squandering? If Americans are, as Bush and Bush loyalists like to say, "fighting them over there so we won't have to fight them over here" then what are we going to do with the likes of Professor Pino -- who happens to be "fighting the Jihad right here," that is, aiding and abetting "them," right in Ohio.
What?